English Church Architecture.
SALTERHEBBLE (HALIFAX), All Saints (SE 093 227),
CALDERDALE.
(Bedrock: Carboniferous Namurian Series, Rough Rock from the Millstone Grit Group.)
Another inexpensive church by Mallinson and Healey, set proudly on a ridge.
One of the subjects examined by this web-site is the near-complete oeuvre of a little-known but regionally dominant, mid-nineteenth century architectural firm specialising in ecclesiastical work, in order to discover how they built their local reputation, how they maintained a financially competitive edge and sustained a very busy practice with few or no staff, and what 'success' looked like in terms of monetary reward and the provincial architect's acquired position in Victorian society. The firm chosen is the partnership between James Mallinson and Thomas Healey (fl. 1845-62/3), who worked out of offices in Halifax and Bradford. The majority of the extant church buildings for which the partners were responsible are listed below and should ideally be examined in chronological order. They are:
1. Queensbury, Holy Trinity (Bradford) (1843) (Mallinson alone)
19. East Keswick, St. Mary Magdalene (Leeds) (1856)
2. Wyke, St. Mary (Bradford) (1844) (Mallinson alone)
20. Claremount, St. Thomas (Calderdale) (1857)
3. Clayton, St. John the Baptist (Bradford) (1846)
21. Clifton, St. John (Calderdale) (1857)
4. Baildon, St. John the Baptist (Bradford) (1846)
22. Salterhebble, All Saints (Calderdale) (1857)
5. Manningham, St. Paul (Bradford) (1846)
23. Thornaby-on-Tees, St. Paul (Stockton-on-Tees) (1857)
6. Mytholmroyd, St. Michael (Calderdale) (1847)
24. Thornhill Lees, Holy Innocents (Wakefield) (1858)
7. Bankfoot, St. Matthew (Bradford) (1848)
25. Bugthorpe, St. Andrew (East Riding) (1858) (nave only)
8. Shelf, St. Michael & All Angels (Bradford) (1848)
26. Bowling, St. Stephen (Bradford) (1859)
9. South Ossett, Christ Church (Wakefield) (1850)
27. Girlington, St. Phillip (Bradford) (1859)
10. Barkisland, Christ Church (Calderdale) (1851)
28. Lower Dunsforth, St. Mary (North Yorkshire) (1859)
11. Boroughbridge, St. James (North Yorkshire) (1851)
29. Welburn, St. John (North Yorkshire) (1859)
12. Langcliffe, St. John the Evangelist (North Yorkshire) (1851)
30. Ilkley, All Saints (Bradford) (1860) (chancel only)
13. Cundall, St. Mary & All Saints (North Yorkshire) (1852)
31. Horton, All Saints (Bradford) (1862)
14. Heptonstall, St. Thomas the Apostle (Calderdale) (1853)
32. Hepworth, Holy Trinity (Kirklees) (1862)
15. Mount Pellon, Christ Church (Calderdale) (1854)
33. Dewsbury, St. Mark (Wakefield) (1862)
16. Thorner, St. Peter (Leeds) (1854) (partial reconstruction)
34

. Heaton, St. Barnabas (Bradford) (1863) (Mallinson w

ith T.H. Healey)
17. Withernwick, St. Alban (East Riding) (1854) (reconstruction)
35. Tockwith, Church of the Epiphany (North Yorkshire) (1863) (as above)
18. Mappleton, All Saints (East Riding) (1855) (not the tower)
This is a large and rather plain church by Mallinson and Healey, given some interest by its tall diagonally-buttressed southeast tower with octagonal bell-stage, surmounted by a spire lit by two tiers of gabled lucarnes, rising directly from the walls of the bell-stage below. (See the photographs, left, taken from the southwest, and at the foot of the page, taken from the north.) The rest of the building consists of a chancel with a cross-gabled N. chapel and adjoining vestry, and a five-bay nave with lean-to aisles and a N. porch. Inside, a mezzanine floor added recently over the western bays of the nave, creates an enclosed space above.
Thomas Healey adopted the late geometrical style here in 1857, for tracery shapes are confined largely to trefoils and quatrefoils (some of them pointed), with only a few small ogees creeping in here and there. The latter were probably not prominent enough to offend Ruskin's disciples (as discussed under the entry for Bankfoot) although the building is not particularly reflective of other Ruskinian dogmas for there is no constructional colour, the masonry all being cut from the same local sandstone, and no obvious privileging of mass over line (as there is, for example, at St. Barnabas's, Heaton). The nave arcades are composed of double-flat-chamfered arches springing from octagonal piers (as seen below left in the view looking west), the chancel arch and N. chapel arch from the chancel bear two flat chamfers above semi-octagonal responds, and the chamfers around the arch to the organ chamber opposite in the base of the tower, die into the jambs. The nave roof is framed in seven cants with ashlar pieces rising from the wall plates, braced collars and no purlins; the chancel roof has purlins at the ⅓ and ⅔ stages, and collars halfway up the pitch, supported by cusped arch braces.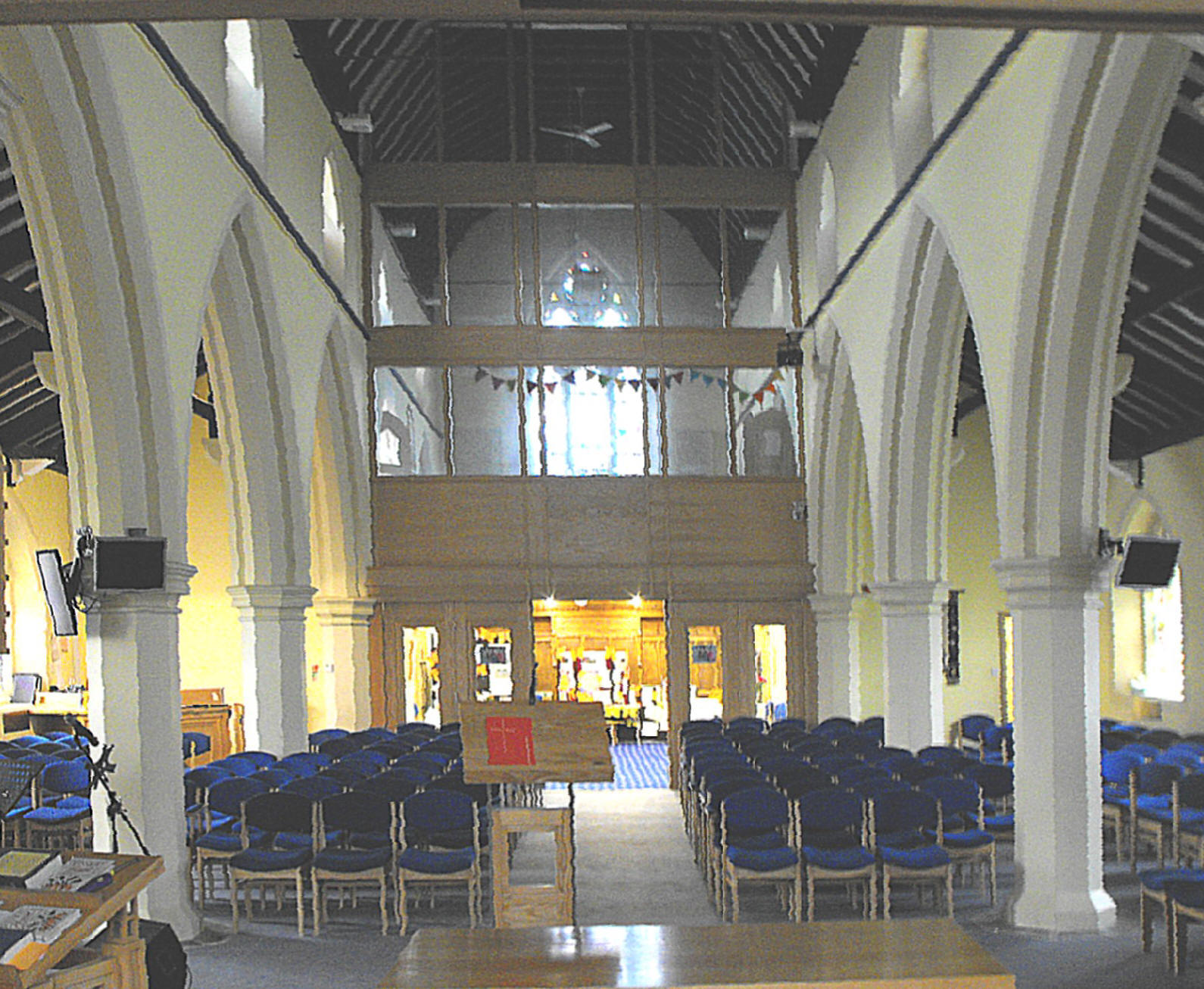 Decorative work is confined to two areas in the church - the font, and the E. wall of the sanctuary. The former, of 1886 (britishlistedbuildings website), has an octagonal bowl carved with small figures (or are they Biblical scenes?) on the cardinal sides and foliage on the ordinal sides, although the mottled brown and cream marble of which it is made, confuses the impression it makes on the eye. The E. wall of the sanctuary is a surprisingly rich conceit in view of the austerity of the church elsewhere and features a row of nine septfoil-cusped arches at dado level, with steep crocketed gables rising from figure label stops, supported below on little brown marble shafts with deeply carved leaf capitals. There is also some attractive Victorian glass in some of the windows, most notably the four-light chancel E. window featuring the Evangelists (shown above right). There is nothing else that needs particularising, but this was another confident example of Mallinson and Healey's budget-price churches erected in a prominent position on a hilltop and it presents a proud silhouette against the skyline for passengers approaching Halifax along the railway line below the ridge to the southeast.