English Church Architecture.
MAPPLETON, All Saints (TA 225 349),
EAST RIDING OF YORKSHIRE.
(Bedrock: Upper Cretaceous, Lower Chalk Rowe Formation.)
A village church reconstructed by Mallinson & Healey on the Holderness coast, well away from their usual sphere of operations, in 1854-55.
One of the subjects examined by this web-site is the near-complete oeuvre of a little-known but regionally dominant, mid-nineteenth century architectural firm specialising in ecclesiastical work, in order to discover how they built their local reputation, how they maintained a financially competitive edge and sustained a very busy practice with few or no staff, and what 'success' looked like in terms of monetary reward and the provincial architect's acquired position in Victorian society. The firm chosen is the partnership between James Mallinson and Thomas Healey (fl. 1845-62/3), who worked out of offices in Halifax and Bradford. The majority of the extant church buildings for which the partners were responsible are listed below and should ideally be examined in chronological order. They are:
1. Queensbury, Holy Trinity (Bradford) (1843) (Mallinson alone)
19. East Keswick, St. Mary Magdalene (Leeds) (1856)
2. Wyke, St. Mary (Bradford) (1844) (Mallinson alone)
20. Claremount, St. Thomas (Calderdale) (1857)
3. Clayton, St. John the Baptist (Bradford) (1846)
21. Clifton, St. John (Calderdale) (1857)
4. Baildon, St. John the Baptist (Bradford) (1846)
22. Salterhebble, All Saints (Calderdale) (1857)
5. Manningham, St. Paul (Bradford) (1846)
23. Thornaby-on-Tees, St. Paul (Stockton-on-Tees) (1857)
6. Mytholmroyd, St. Michael (Calderdale) (1847)
24. Thornhill Lees, Holy Innocents (Wakefield) (1858)
7. Bankfoot, St. Matthew (Bradford) (1848)
25. Bugthorpe, St. Andrew (East Riding) (1858) (nave only)
8. Shelf, St. Michael & All Angels (Bradford) (1848)
26. Bowling, St. Stephen (Bradford) (1859)
9. South Ossett, Christ Church (Wakefield) (1850)
27. Girlington, St. Phillip (Bradford) (1859)
10. Barkisland, Christ Church (Calderdale) (1851)
28. Lower Dunsforth, St. Mary (North Yorkshire) (1859)
11. Boroughbridge, St. James (North Yorkshire) (1851)
29. Welburn, St. John (North Yorkshire) (1859)
12. Langcliffe, St. John the Evangelist (North Yorkshire) (1851)
30. Ilkley, All Saints (Bradford) (1860) (chancel only)
13. Cundall, St. Mary & All Saints (North Yorkshire) (1852)
31. Horton, All Saints (Bradford) (1862)
14. Heptonstall, St. Thomas the Apostle (Calderdale) (1853)
32. Hepworth, Holy Trinity (Kirklees) (1862)
15. Mount Pellon, Christ Church (Calderdale) (1854)
33. Dewsbury, St. Mark (Wakefield) (1862)
16. Thorner, St. Peter (Leeds) (1854) (partial reconstruction)
34

. Heaton, St. Barnabas (Bradford) (1863) (Mallinson w

ith T.H. Healey)
17. Withernwick, St. Alban (East Riding) (1854) (reconstruction)
35. Tockwith, Church of the Epiphany (North Yorkshire) (1863) (as above)
18. Mappleton, All Saints (East Riding) (1855) (not the tower)
This is one of the duller churches by Mallinson and Healey and one of three minor commissions the firm received in Holderness (the others being at nearby Catwick and neighbouring Withernwick), suggesting they had procured a personal contact here, possibly through the Rev. James Palmes, incumbent of Weeton (just north of Leeds), for whom Mallinson and Healey built a school and teacher's house in 1855-6 at the charge of Lord Harewood, and who was the younger brother of the Rev. William Lindsey Palmes, rector of Hornsea and rural dean of North Holderness (The Yorkshire Gazette, 7th April 1888, p. 5). However, uninspiring though it may appear, any shortcomings in the design did not arise from a lack of Thomas Healey's attention, for the firm's day-books for 1854 and '55 (West Yorkshire Archive, Halifax Record Office, MOO:1 & MOO:2), show he visited regularly, notwithstanding the lack of railway connections and the usual need, in consequence, to make an overnight stay. Building may also have been hindered rather than helped by the amount of material from the old church it was decided to re-use: the mediaeval W. tower was retained, and much of the masonry comprising the chancel windows and N. arcade of c. 1300, was taken down, reassembled, and put back. When newly complete, the church consisted of a chancel with a N. vestry, a nave with a N. aisle and S. porch, and the original W. tower to which Healey had added a colour-banded broach spire, which, unfortunately, is not the one to be seen here today, as in 2001 it was deemed to have become dangerous and replaced by the present spire in a uniform grey stone. To this, the nave and chancel masonry formed of large assorted cobbles with stone dressings and tumbled-in brick around the window heads, offers a modicum of relief, but it is not as pleasing as Healey's masonry at nearby Withernwick (which also includes double courses of red brick dividing the cobbles into bands at intervals), and the overall effect is dreary, even on a sunny day.
However, to consider briefly the constituent parts of the church in turn, the W. tower probably dates from c. 1300: it is unbuttressed and rises in three slightly recessed stages, unmarked by string courses, to cinquefoil-cusped, Y-traceried bell-openings, lit to the west by a three-light Perpendicular window, probably inserted a couple of centuries later. The modern spire has no distinguishing features. The tower arch to the nave carries two wide continuous flat chamfers all the way round, uninterrupted by intervening capitals.
The N. arcade (seen above, viewed from the southwest) is composed of double-flat-chamfered arches supported on octagonal piers, this time with prominent capitals, and, at either end, what appears to be a (presumably mediaeval) less than competent attempt to design a respond of two semi-octagonal orders. The chancel arch is double-flat-chamfered and probably contemporary with the two-light N. and S. chancel windows featuring broad, rather ungainly pointed quatrefoils above lights surrounded, outside and in, by delicate roll mouldings. The chancel E. window is three-light with three encircled sexfoils above, with alternate foils pointed. The nave and aisle windows are part of the rebuild and feature two quatrefoils and a bifoil above the springing in the former case, while the latter are untraceried beneath segmental-pointed arches. (The photograph above right, taken from the south, shows the junction between the nave and chancel, together with one window in each.) The porch is windowless.
The church does not contain any significant furnishings and the Victorian stained glass it is supposed once to have possessed was destroyed by enemy action in 1940, which confines any further interest in the interior to the roofs: the chancel roof is relatively commonplace with scissor-bracing and purlins ⅓ and ⅔ of the way up the pitch, but the 'boxy' nave roof (shown below) is surprisingly elaborate. This too has purlins at the ⅓ and ⅔ stages, but these are now linked across the church by braced tie beams and collars respectively, and joined longitudinally and vertically by a collar purlin, octagonal king posts rising from the tie beams to the collars, and queen posts rising from the tie beams to the collar/ purlin junctions. It looks, perhaps, unnecessarily complicated, but it cannot be denied that the effect is quite striking.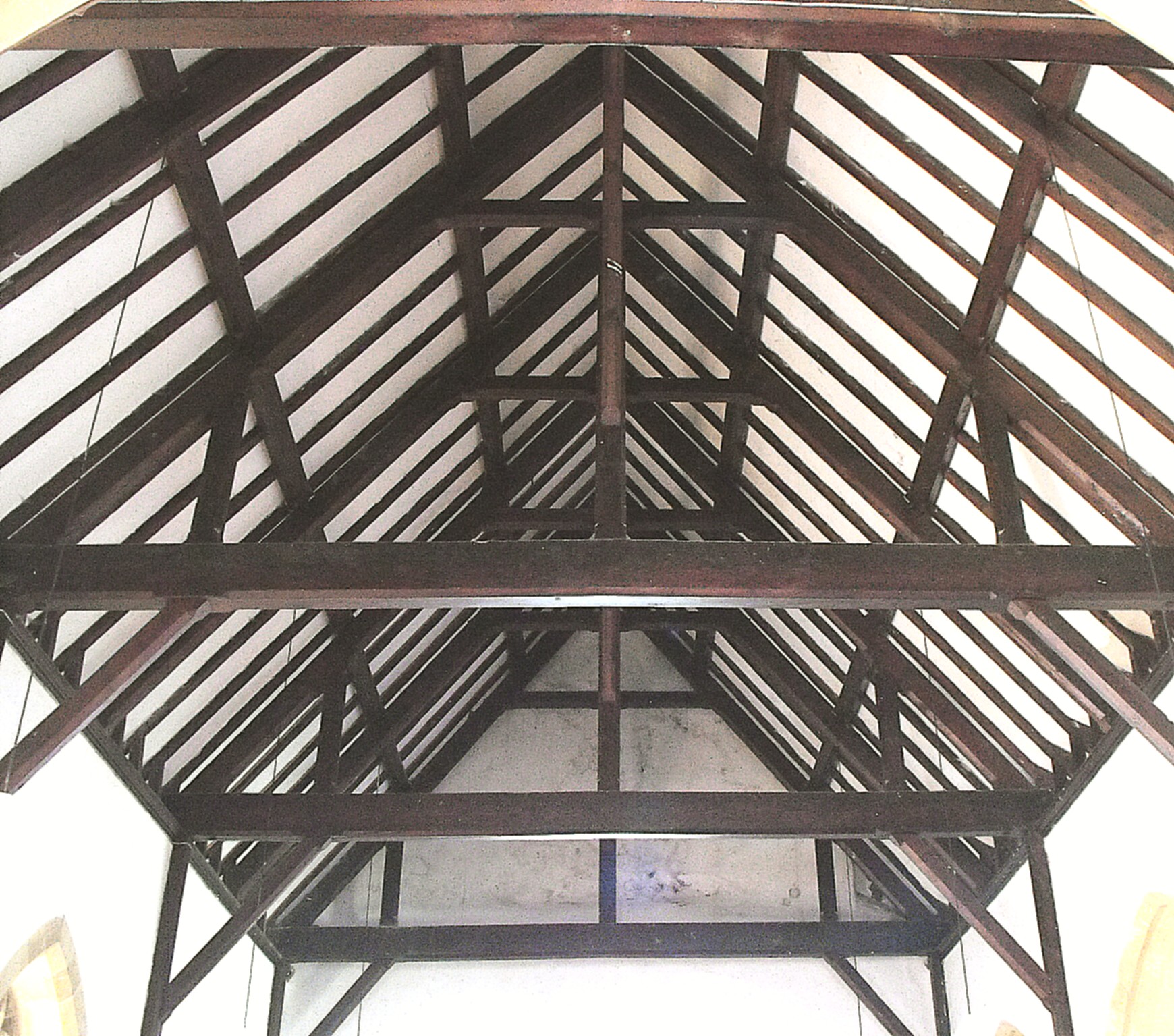 ---