English Church Architecture.
ETAL, St. Mary (NT 929 394),
NORTHUMBERLAND.
(Bedrock: Carboniferous Dinantian Subsystem, Ballagan Cementstone Group.)
A simple little church by William Butterfield (1814 - 1900),
commissioned by Lady Augusta FitzClarence in memory of her late husband.
William Butterfield was precisely the kind of architect the Cambridge Camden Society (later Ecclesiological) Society liked. A dogmatic if also unconventional High Churchman, committed to building churches that facilitated the 'proper' execution of the Christian rubrics, it was he that they chose to build their model church in Margaret Street, Westminster, in 1849, which they intended to be an exemplar for church architects everywhere. They approved of ornament and they approved of display, in both of which Butterfield excelled, and Butterfield's profound interest in structural polychromy seemed one representation of this.
Butterfield was an abstemious bachelor, however, determined to plough his own furrow. Self-contained and indifferent to criticism or the approbation of his peers, he could not always be relied upon to deliver what was wanted. And there were also very strict limits to Butterfield's tolerance of Ritualism: he would not attend his church of All Saints', Margaret Street, after it was completed, for example (Paul Thompson, William Butterfield, London, Routledge & Kegan Paul, 1971, p. 33), probably because he objected to the incense, lights, and/or elevation of the Host. He had, after all, been brought up as a Nonconformist, some aspects of which he would never throw off. Yet his mature professional style owed a greater debt to the High Church Pugin than it would ever do to the Evangelical Ruskin, and Butterfield's use of coloured materials predated its advocacy in Ruskin's The Seven Lamps of Architecture, albeit not by much. He quickly became its supreme exponent too, for only Street proved a serious rival. Mocked in later years for his 'streaky bacon' or 'holy zebra' style, it was his misfortune to have many of his buildings ruined by subsequent generations, sometimes by the insertion of heavy stained glass in the windows, which prevented his colourful interiors from being seen in good light, or, more usually in the twentieth century, by whitewashing over them by those who thought them garish, as at St. Mary's Hitchin (Hertfordshire). Some survive in good heart however, and while Butterfield's churches illustrated on this web-site include a number of relatively minor buildings, they also feature a few examples of his best.
This little church (shown above, from the northwest, and below, from the southwest) was commissioned in 1855 by Lady Augusta FitzClarence, as a mortuary chapel in memory of her late husband, Lord Frederick, who had recently died in India, and of the couple's only child, Frederica Augusta, who had outlived him only by a year (anon., The Chapel of the Blessed Virgin Mary, Etal, Northumberland: a Guide to the Church, undated, p. 1). Lady Augusta's chosen architect was William Butterfield, no less, who was even then overseeing the construction of All Saints', Margaret Street. Perhaps there was insufficient money available to make much of a show here on this furthest-flung border of England or perhaps he was simply too preoccupied with his responsibilities elsewhere, but Butterfield certainly appears to have treated St. Mary's as very much a 'bread and butter' job, and it would be interesting to know whether, in fact, he ever paid this distant, rather inaccessible spot a visit. The plan of the building is compact and sensible enough, formed of just a nave and chancel without external structural division, a N. porch, a N. vestry, an independently-gabled S. chapel divided internally into two parts and extending neither the full length of the nave to the west nor of the chancel to the east, and a bellcote over the nave, roughly halfway along the ridge line. What is lacking is any real sign of originality, let alone anything truly characteristic of its author, unless that might be the very steep roofs or the very modest nod at structural polychromy, with exterior walls constructed of buff coloured sandstone banded with pale grey, a contrast even less striking in practice than it sounds in theory. The crazy-paving effect of the mortar around the chiselled sandstone blocks of the interior walls is spurious, since these were originally plastered. Still more surprising is the lack of interest Butterfield shows in the arrangement of the floor tiles, which he usually built up in complexity and richness from the west end of a church to the east but which never rise above the commonplace here.
Butterfield fenestrated his building with a mixed bag of trefoil-cusped lancets with ogee points to the north and the south, a two-light window with a trefoil in the head in the chapel W. wall, a round window formed of a large ogee-lobed quatrefoil in a circle, high up in the chapel E. wall, a three-light window with a large lobed cinquefoil in the head in the nave W. wall, and a three-light window with conventional curvilinear tracery in the chancel E. wall. The last is a clear indication of the church's early Victorian date, for such flexible Decorated traceries contravened all notions of 'correctness' after Ruskin's prejudicial theorising had had time to take effect, notably in chapter two of The Seven Lamps of Architecture ('The Lamp of Truth'), published in 1849. The porch is windowless but the outer doorway is double-chamfered above an order of shafts with fillets and circular capitals, and the inner doorway carries a complex series of mouldings including a hollow chamfer and a couple of rolls above another order of shafts.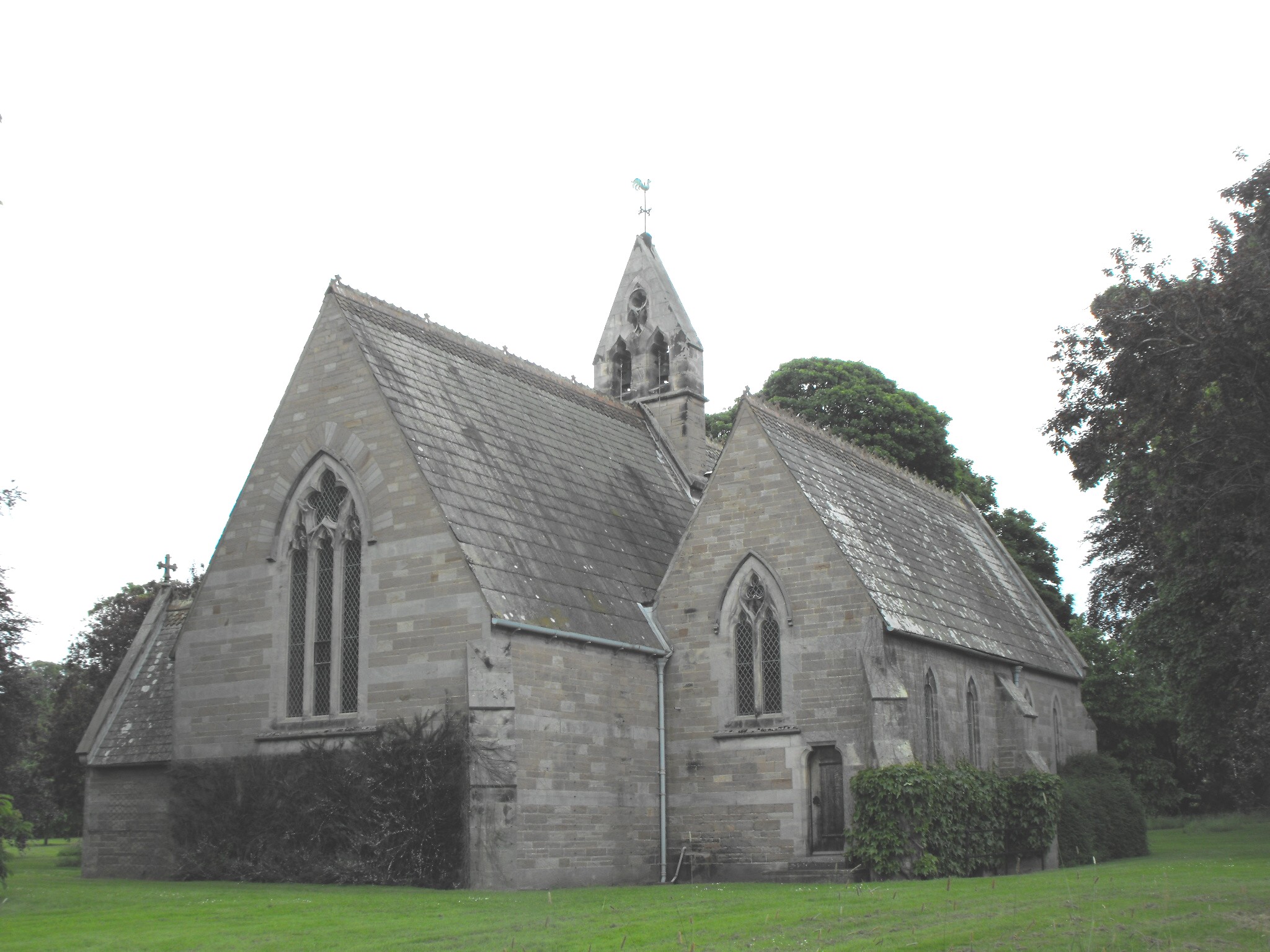 Inside the building, a single arch towards the east separates the nave and chapel, but the chapel appears less secluded than that suggests, as it is divided from the chancel only by a two-bay stone screen formed of three-light, originally unglazed openings, with very large trefoils in their heads. They match the style on a grander scale of the piscina and aumbry recessed in the sanctuary S. wall beyond. The arch between the two halves of the S. chapel, consists of a single, wide flat chamfer above semicircular shafts, and the eastern section is largely given over to a plain tomb-chest in the exact centre, of grey stone, decorated only by a sword and a cross in shallow relief and laid seemingly at random on the ridged top.
[Other churches by Butterfield featured on this web-site are Hitchin Holy Saviour in Hertfordshire, Baldersby St. James, Dalton, Sessay and Wykeham in North Yorkshire, Babbacombe in Torbay, and All Saints Margaret Street in the City of Westminster. ]