English Church Architecture -
Suffolk.
HOLTON ST. MARY, St. Mary (TM 059 368) (March 2011)
(Bedrock: Neogene, Red Crag Formation)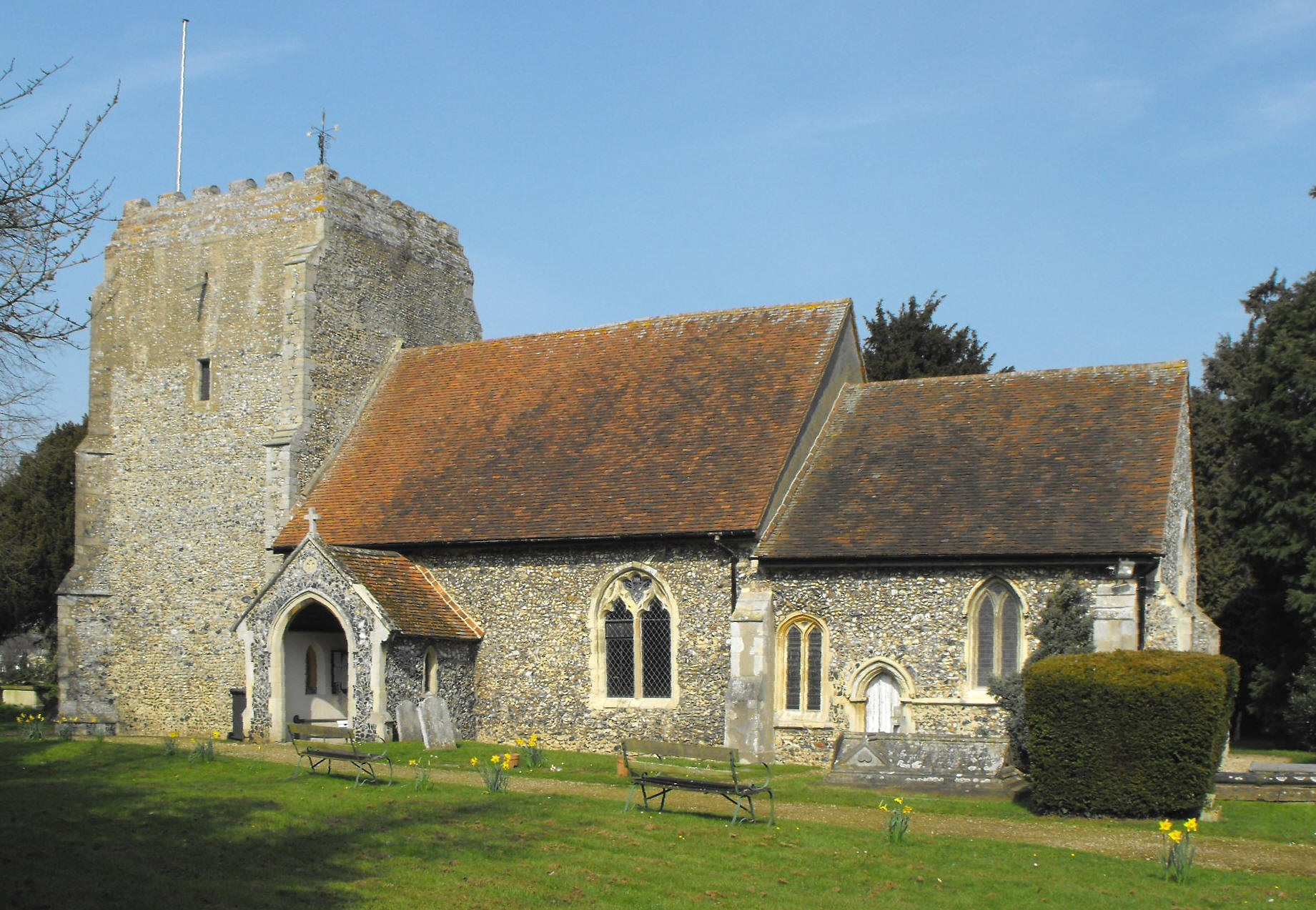 This is a humble building (shown above from the southeast) consisting of a chancel with N. vestry, a nave with S. porch, and stump of a diagonally-buttressed tower, topped by later brick battlements. The
tower predominates by virtue of its bulk, and the thickness of the walls is shown by the tower arch, yet it shows no particular evidence of a Norman origin and seems most likely to be thirteenth century in date. It is unclear whether or not it was actually ever finished. Its most important feature now is its inserted W. window (right), with a segmental-pointed arch, little linking subarcuation above the lights, and four sub-lights, of which the inner pair are ogee-pointed and the outer pair, two-centred. This is very similar to the windows at St. George's, Stowlangtoft, erected c. 1390.
The nave is lit on either side by a two-light Decorated window, each with trefoiled ogee lights and a dagger in the head. The porch and vestry are Victorian and the chancel windows with Y- and intersecting tracery date entirely from the restoration.
The church interior reveals few features and what there are, are mostly modern. The octagonal font is Perpendicular, however, with blank quatrefoils on the faces, enclosing a series of simple carvings, and the piscina in the S. wall of the sanctuary has a trefoiled arch supported on little shafts with the appearance of c.1300. A similar recess opposite probably once functioned as an aumbry. The chancel and nave are built without structural division (i.e. without a chancel arch) and the tower arch is double-hollow-chamfered above shallow semi-octagonal responds.